Welcome to EXPOLINGUA Online Spring Edition
The world of languages in your own home: interactive language courses, workshops for teachers, learners and language enthusiasts, live sessions for those interested in professions with languages or anybody who's longing to go traveling.
Please sign up each course individually: just click on the talk/course you are interested in and enter your Email Address.
The programme will be constantly updated and will take place over the platform Zoom. You can find the language of the event in the event box in the programme. Have fun!
Please note: time setting are in Central European Time (CET)(GMT+1). You can find our time zone here.
Status 11.04.2021 – subject to change.
Programme – Wednesday, 24.03.2021
Raum 1 – Minisprachkurse
CDB Bildungsconsulting
China Impulse
Istituto Italia 150, Italy
EF Education (Deutschland)
Raum 2 – EXPO Bühne
Bundesverband der Dolmetscher und Übersetzer e. V. (BDÜ) Landesverband Berlin-Brandenburg e.V.
Raum 3 – Language Hub
Lili Santizo, Mundo Spanish School
Mario Peneleu, San Pedro Spanish School
Guatemala
Programme – Thursday, 25.03.2021
Raum 1 – Minisprachkurse
Raum 2 – EXPO Bühne
Raum 3 – Language Hub
Experiment e.V. - Deine Austauschorganisation
Fundación de la Lengua Española, Spain
La Casa del Español (Valladolid), Spain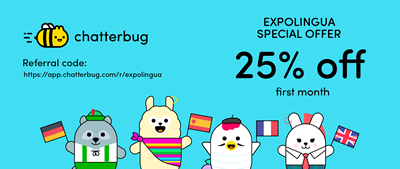 Programme – Friday, 26.03.2021
Raum 1 – Minisprachkurse
Raum 2 – EXPO Bühne
GanEnTaiChi College, China
Centro de Enseñanza para Extranjeros, Universidad Nacional Autónoma de México (UNAM), Mexico
Raum 3 – Language Hub
Programme – Saturday, 27.03.2021
Raum 1 – Minisprachkurse
Raum 2 – EXPO Bühne
Raum 3 – Language Hub
Ecoute - Spotlight Verlag
Instituto Cervantes Berlin
Istituto Italia 150, Italy