Welcome to EXPOLINGUA Online Spring Edition
The world of languages in your own home: interactive language courses, workshops for teachers, learners and language enthusiasts, live sessions for those interested in professions with languages or anybody who's longing to go traveling.
Most of the talks/courses were recorded. Please find the links to the recordings directly in the programme below. Enjoy the videos – and see you next time!
Programme – Wednesday, 24.03.2021
Raum 1 – Minisprachkurse
CDB Bildungsconsulting
China Impulse
Istituto Italia 150, Italy
EF Education (Deutschland)
Raum 2 – EXPO Bühne
Bundesverband der Dolmetscher und Übersetzer e. V. (BDÜ) Landesverband Berlin-Brandenburg e.V.
Raum 3 – Language Hub
Lili Santizo, Mundo Spanish School
Mario Peneleu, San Pedro Spanish School
Guatemala
Programme – Thursday, 25.03.2021
Raum 1 – Minisprachkurse
Raum 2 – EXPO Bühne
Raum 3 – Language Hub
Experiment e.V. - Deine Austauschorganisation
Fundación de la Lengua Española, Spain
La Casa del Español (Valladolid), Spain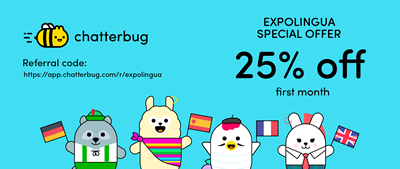 Programme – Friday, 26.03.2021
Raum 1 – Minisprachkurse
Raum 2 – EXPO Bühne
GanEnTaiChi College, China
Centro de Enseñanza para Extranjeros, Universidad Nacional Autónoma de México (UNAM), Mexico
Raum 3 – Language Hub
Programme – Saturday, 27.03.2021
Raum 1 – Minisprachkurse
Raum 2 – EXPO Bühne
Raum 3 – Language Hub
Ecoute - Spotlight Verlag
Instituto Cervantes Berlin
Istituto Italia 150, Italy