What is EXPOLINGUA Berlin?
A Whole World of Languages:
From Arabic to Zulu, English, Japanese or Portuguese, whether it is an inland language course, innovative apps or a new textbook: at EXPOLINGUA we've got everything related to language learning and teaching.
A Festival of Cultures:
Brazilian rhythms, Chinese martial arts, Indonesian musical instruments or Persian calligraphy: take part and dive into the rich world of cultural diversity!
Get Personalised Advice:
Whether its Spanish in Argentina, Guatemala, Mexico or Spain itself, whether its Chinese in Taiwan or English in Ireland, Malta, USA, or the UK – at EXPOLINGUA you'll meet experts that are eager to share their own experiences and answer your individual questions.
Your Future:
Careers and internships with foreign languages, opportunities to study or take a business course – Languages expand your horizons and drastically improve your career prospects.
Your Career:
From translation and interpreting to coaching and intercultural training: at EXPOLINGUA you'll find the newest trends, innovative methods and best practice models relevant to your work!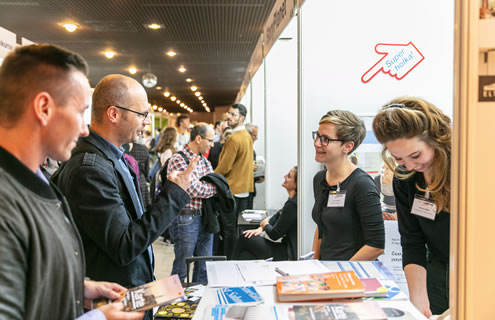 More than ever before:
9.848 motivated visitors!
Picture Gallery
Our gallery provides pictures and images in high-resolution print quality.
"A good opportunity to meet a large number of students and teachers from our target area as well as network with other stand holders. As a direct result of the attendance at the event, we have managed to work with four new schools and inform the wider community about our courses."
"EXPOLINGUA is the most important language fair in the German region."
"It's our first time at EXPOLINGUA and we're bowled over. We have had the chance to speak with people who are interested in culture and languages, and how InterRail works."
"EXPOLINGUA is the only broad platform for meeting with the friends of the Arabic language."
"As an organisation providing languages courses and language learning trips we are appreciate the chance to meet our customers face-to-face and advise them at the event.

The international atmosphere and cultural diversity is a real highlight every year. "
"No other trade fair offers the opportunity to interact so directly and personally with the people for whom we create our products."
"For years, we have successfully recruited teachers to the foreign education service at EXPOLINGUA. All the visitors are very interested in other cultures and societies"
"The fair was a success, particularly in regard to creating brand awareness and offering direct information to new clients and potential collaborators about our organisation."
"As a language and cultural institute, EXPOLINGUA Berlin is the best opportunity we have during the year to dialogue with our colleagues and the public."
"We represent Education First at more than 140 exhibitions a year, and EXPOLINGUA Berlin is definitely the most interesting one!"