Übersetzen und
Dolmetschen
Vortragsreihe
für Lehrkräfte
Programme – Friday, 22.11.2019
Kleiner Saal
Raum 311
Informations- und Beratungsstelle für Auslandsaufenthalte in der beruflichen Bildung
Einstieg in Esperanto
Louis v. Wunsch-Rolshoven
Deutscher Esperanto-Bund e.V.
Studieren im Land Tolstois – russische Universitäten stellen sich vor!
RHWK und Universitäten aus Russland
Renata von Bülow
Botschaft von Japan
Hitomi Makino
Japanisch-Deutsches Zentrum Berlin (JDZB)
Kerstin Höfler Sprache & Kommunikation
Mini­sprachkurse
Raquel Miranda-Kliem
Instituto Camões
Türkisch
Esma Gülsoy Paschen
Royal Turkish Schools, Turkey
Instituto Cervantes Berlin
Nasibeh Moazani
Hafis-Institut
Griechisch
Irene Chrisoulaki
Filomathia - Greek Language Centre, Greece
Lehrer Lounge
Übersetzen und
Dolmetschen
Vortragsreihe
für Lehrkräfte
Programme – Friday, 22.11.2019
Culture Corner
German Neijiaquan Association - Verband für Innere Chinesische Kampfkunst in Deutschland e.V.
Das Arabische Kulturhaus – Der Divan stellt sich vor!
Henna Malerei - Workshop
Fenal Doshi
Henna Kunst Berlin
EXPO Lounge
Career Lounge
Pädagogische Hochschule Schwäbisch Gmünd
infothek beruflicher Wiedereinstieg
Learn Spanish in Barcelona for your career!
Susanna Pérez Martínez
UAB Idiomas Barcelona, Spain
Portuguese Connnection School, Portugal
Meetup
Übersetzen und
Dolmetschen
Vortragsreihe
für Lehrkräfte
Programme – Saturday, 23.11.2019
Kleiner Saal
Raum 311
Hochschule für Technik und Wirtschaft Berlin
LSI.online Lesekurs Chinesisch
Dr. Anke Pieper
Institutsleiterin Sinicum, LSI Bochum
Modern challenges in learning a language as old as Greek
Filomathia - Greek Language Centre, Greece
Dr. Detlef Groth
Deutsche Ido-Gesellschaft
Computer assisted translation with SDL Trados Studio – How does it work and what are the benefits for translators!
James Thorogood
SDL Trados
Eva Zahonero-Vieites
Liechtenstein Languages Institut
Mini­sprachkurse
Finnland-Institut in Deutschland
Japanisch
Kathatina Dudzus
Japanisches Kulturinstitut
Botschaft der Rep. Indonesien / Haus der Indonesischen Kulturen
Nazarbayev University, Kazakhstan
Taufiek Ghalayini
lingua-arabica
Lehrer Lounge
Übersetzen und
Dolmetschen
Vortragsreihe
für Lehrkräfte
Programme – Saturday, 23.11.2019
Culture Corner
EXPO Lounge
Multilingual teacher, coach and mentor, www.speakfromdayonewithelisa.com
Assimil 90 Jahre jung: die kleinen Geheimnisse des Erfolgs – für jung und alt!
Polyglot Talk - 2
Moderation: Elina Eliasson
Polyglot Club Berlin
Lina Vasquez
TheBusyLinguist
speakfromdayonewithelisa.com
Luca Lampariello
LucaLampariello.com, Italy
Fremdsprachen lernen mit Original-Zeitungsartikeln
Anne-Kathrein Schiffer
Die Sprachzeitung / Carl Ed. Schünemann KG
Career Lounge
Elsa Thumerel
Top Language Jobs / CareerBuilder, UK
Business Spotlight, Spotlight Verlag
Make Spanish a bonus for your profession
Liliana Argentero
Spanish My World, Spain
Das moderne Hostel am Beispiel von a&o
Chris Probst
a&o hostels Marketing GmbH
Meetup
Influencers at EXPOLINGUA Berlin
All influencer registrations may be submitted via presse@expolingua.com.
Meet famous language learning influencers and get to know your favorite YouTubers in person at EXPOLINGUA Berlin! We proudly present: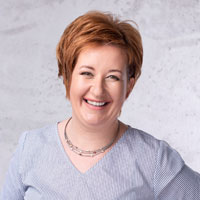 Marija Dobrovolska – Deutsch mit Marija
Ich bin Marija und das ist mein Kanal, wo ich Deutschlernenden auf der ganzen Welt zu ihren B2 und höheren Prüfungen verhelfen. Ich bin dieses Jahr Sprachbotschafterin der EXPOLINGUA Berlin, weil ich Sprachen als einen goldenen Schlüssel zu einer besseren Welt sehe. Deswegen setze ich mich dafür ein, dass möglichst viele Menschen ihre Superpower entdecken: Fremdsprachen!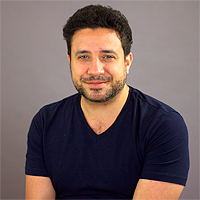 Luca Lampariello
Luca Lampariello is from Rome, Italy. He holds a degree in Electronic Engineering and studied Interpretation in Paris. His true passion is languages: he is currently fluent in 10 and speaks 14. He has been working as a language coach for the last 10 years and has been coaching hundreds of students from a wide range of countries. Since 2008, his videos on YouTube and blog, LucaLampariello.com, have attracted thousands of followers and language learners all around the world. He is honored and thrilled to be this year's language ambassador at EXPOLINGUA!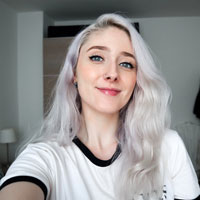 Andy Gimenez - AndyGM en Berlín
Andy is Spanish but has been living in Berlin for the past 5 years, where she is finishing her studies in Marketing and Digital Media. She is fluent in 3 languages (Spanish, English and German) and currently learns Korean. She discovered her passion for other cultures and languages when she spent some time studying in Canada, an experience that expanded her horizons in ways never imagined! She moved to Berlin to finish her first bachelor but ended up changing studies due to a lot of difficulties… All these new experiences and obstacles made her decide to start her Youtube Channel "AndyGM en Berlín", where she informs and helps people overcome them more easily. To an audience of almost half a million people she teaches German, shares her travels, talks honestly about obstacles and difficulties of living abroad, gives advice and tries to help as many people as possible be a step closer to accomplishing their dreams.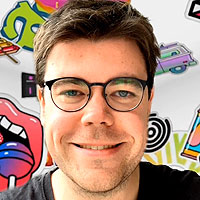 Benjamin – Deutsch mit Benjamin
www.instagram.com/deutsch_mit_benjamin
Benjamin ist muttersprachlicher Deutschlehrer mit dem Motto: Deutsch ist leicht. Er ist sich sicher, dass jeder es lernen kann – es kommt nur auf die Methoden an. Benjamin betreibt eine Instagram-Seite, wo er u.a. durch Vlogs authentisches Alltagsdeutsch unterrichtet. Vor kurzem hat er auch einen YouTube-Kanal erstellt.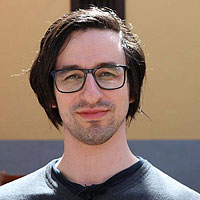 Gabriel Gelman – Sprachheld
Gabriel beherrscht 6 Sprachen (Deutsch, Englisch, Spanisch, Französisch, Russisch, Hebräisch). Er weiß aus 10-jähriger eigener Erfahrung, wie man eine Fremdsprache effektiv und zuverlässig erlernt und kennt alle Methoden und wissenschaftlichen Hintergründe, denn er hat darüber hinaus eine Vielzahl von Interviews mit Experten zum Thema Sprachen und Sprachenlernen geführt. Sein Blog Sprachheld ist ein praxisorientierter Blog von einem echten Sprachenlern-Experten für Dich. Hier kriegst Du erprobte Praxisstrategien und keine theoretischen Tipps von Lehrern, die im Studium gelernt haben.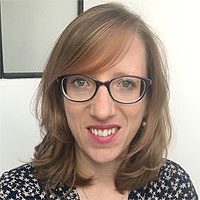 Jeanne – Apprendre Natur'allemand
www.apprendrenaturallemand.com
Jeanne ist Französin und hat besondere Liebe zu der deutschen Sprache und Kultur, nachdem sie 8 Jahre in Deutschland gelebt hat. Jetzt wohnt sie wieder in Frankreich und 2018 startete sie ihren YouTube-Kanal, um Franzosen dabei zu helfen, Deutsch mit Freude zu lernen. "Apprendre Natur'allemand", Deutsch auf natürliche Weise lernen: so macht am meisten Spaß! Ob beim Kochen, beim Basteln, oder ganz einfach im Alltag, Jeanne erklärt den Französischsprachigen die deutsche Sprache auf einer ganz spontanen Art.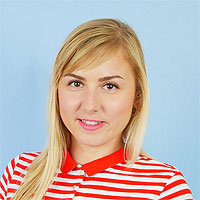 Julia – Lingster Academy
www.instagram.com/lingster.academy
Julia ist Sprachwissenschaftlerin mit Leib und Seele und hat im Vermitteln der deutschen Sprache, vor allem der Grammatik, ihre Berufung gefunden. Sie arbeitet als DaF-Dozentin an der Universität Saarbrücken, wo sie derzeit den Prototypen ihres ersten Buchs über die wichtigsten deutschen Vokabeln an ihren Studenten testet. Parallel schreibt sie ihre Doktorarbeit über das Sprachenlernen mit sozialen Medien. Seit 2017 unterrichtet sie Deutsch auf Instagram und Youtube.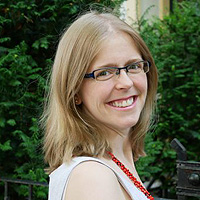 Juliane Klingenberg Nery
Juliane is a polyglot and travel enthusiast from Berlin. She has always loved to learn new languages and discovered her passion for teaching German as a foreign language while studying and living in France, England, Canada and Brazil.
The success of her 1-1 lessons eventually led her to develop her own online video course, with now almost 700 videos covering the levels A1-B1. It is based on the teaching materials which she created and continuously refined over the past ten years. On www.germantogo.com, she accompanies her students every step of the way, step by step to fluency. She loves what she does, gives them structure and the feeling of having a private tutor in an online course.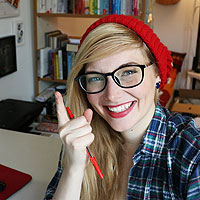 Katja – Deutsch für euch
www.youtube.com/DeutschFuerEuch
Katja stammt zwar aus Deutschland, verbrachte einen erheblichen Teil ihrer Jugend aber an einem ganz anderen Ort: dem Internet. Da man im Internet – besonders damals – vor allem auf Englisch gut zurechtkam, lernte sie (wie viele andere Nerds) anhand von YouTube und anderen Medien sozusagen "nebenbei" Englisch. Das war auch einer der Motivatoren dafür, 2013 die Videoreihe "Deutsch für Euch" auf dem gleichnamigen YouTube-Kanal zu entwickeln. In ihrem Onlinekurs nimmt Katja komplexe Phänomene der deutschen Sprache auseinander und versucht Regelmäßigkeiten in den oft frustrierenden Eigenheiten des Deutschen aufzudecken. Im "echten Leben" studiert Katja Lehramt aus Überzeugung und freut sich über jeden, der sich von der Freude an Sprache anstecken lässt.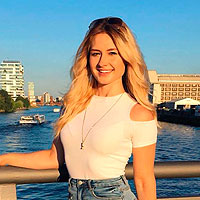 Lina Vasquez – TheBusyLinguist
Lina Vasquez is a Latvian-Australian Polyglot, YouTuber, speaker and language teacher. Having been immersed in a multicultural environment from a young ages, she studied law and languages in Australia and Germany to now speak a total of eight and recently moved from to England to pursue further studies in Psychotherapy. She is an entrepreneur who is passionate about mentoring and inspiring others to enrich their lives and be successful; not only in languages but business, relationships and personal development. Lina runs two YouTube channels; The Busy Linguist and Double Deutsch along with her friend Ed. Her main channel focuses on combining psychology, personal-development, lifestyle and languages and Double Deutsch is where her and Ed let their creative approaches towards teaching the German language shine.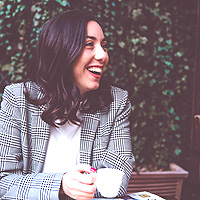 Lucrezia Oddone
Lucrezia Oddone is a Rome born and raised Italian teacher, who discovered her interest for teaching Italian while majoring in translation at university. Her work is mainly online: she runs an Instagram account and a YouTube channel called Learn Italian with Lucrezia. Both are about Italian language, culture, and everything in between. Lucrezia also teaches one to one online lessons to students all over the world.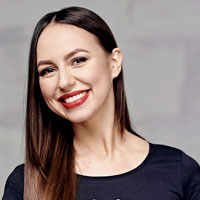 Maria Dein Sprachcoach
www.instagram.com/dein_sprachcoach
Mein Name ist Maria und ich bin Deutschlehrerin. Vor ca. einem Jahr habe ich mich dazu entschlossen, einen Blog auf Instagram zu schreiben. Daraus ist @dein_sprachcoach entstanden, wo ich meinen Schülern Lerntipps gebe und auch meine eigenen Erfahrungen beim Deutschlernen teile. Mein Ziel ist es auch, den anderen zu helfen, an sich selbst zu glauben und zum Lernen zu motivieren.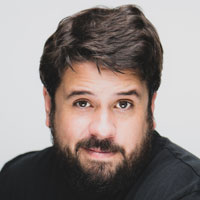 Martín - El Jardín de Martín
Hi, my name is Martín and I have a YouTube channel called "El Jardín de Martín" for Spanish speakers who live or want to live in Germany.
Through interviews, short documentaries and personal theories explained in the garden of my house, I try to find the answer to "How to be an Expat in Germany?"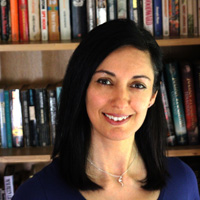 Minoo – Anglo-Link
Minoo is a UK-based English language teacher and YouTuber. She is fluent in English, French, and Persian (her native language). She has also studied Spanish (B1) and German (A2). Minoo obtained her CELTA diploma qualifying her as an EFL teacher and teacher trainer in the UK in 1985. In 2008, she created her online English course called Anglo-Link and launched Anglo-Link's YouTube channel in 2011. At present, the channel offers about 100 lessons on different aspects of the English language and enjoys close to 1.2 million subscribers.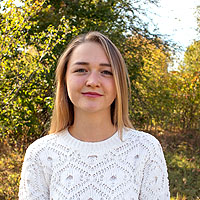 Sofiia Symonova - deutsch.mit
www.instagram.com/deutsch.mit/
Sofiia spricht 4 Sprachen (Ukrainisch, Russisch, Deutsch und Englisch) und lernt zur Zeit Französisch. Sie ist erst 19 Jahre alt und unterrichtet bereits online Deutsch. In ihrem Blog teilt sie ihre Erfahrungen, wie man eine Sprache erlernen kann, ohne in einem Land zu leben, in dem sie gesprochen wird. Sofiia zeigt, dass das Sprachenlernen auch vielfältig und unterhaltsam sein kann. Einen besonderen Wert legt sie auf Tandempartnerschaften. "Sprachen lassen sich am besten durch Anwenden lernen. Bücher zu und raus in die Welt!" lautet ihr Motto.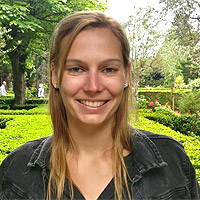 Stefanie – LerneDeutsch
www.instagram.com/lernedeutsch/
As a native German, Stefanie always wanted to learn another language. Growing up in Berlin made it possible for her to meet people with other backgrounds, cultures and languages and that helped her discover her passion for teaching a language. In 2016 she started an Instagram account called LerneDeutsch where you can get your daily dose of German words, sentences and idioms. After receiving great feedback from the LerneDeutsch followers, she put herself a target: help people from all over the world to learn German in a fun and easy way by integrating German into their daily routine using Instagram and to achieve their goal of becoming fluent.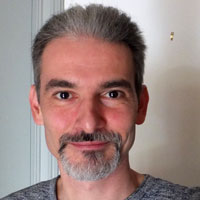 Stefano - linguaEpassione
www.youtube.com/c/linguaEpassione
Stefano is a professional free-lance translator, language tutor and polyglot from Milan, Italy. Despite growing up in a completely monolingual environment, he's had a life-long romance with foreign languages: he currently speaks 10 and is working on a couple more, including Chinese and Georgian. He holds degrees in Translation and Interpretation as well as in Applied Languages and Cultural Studies. Recently Stefano has started sharing his knowledge and passion for language learning both by helping other learners as a 1-on-1 online tutor and by making videos on his YouTube channel called "linguaEpassione", where he talks about various different languages, in various different languages.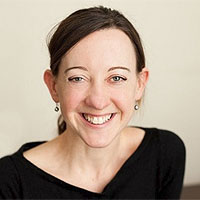 Seonaid Beckwith - Perfect English Grammar
www.perfect-english-grammar.com
Seonaid is a British linguist who lives in London and runs the website Perfect English Grammar. She helps millions of people all over the world improve their English via online explanations and exercises, video courses and books. She has a master's degree in English and Linguistics from Cambridge and loves studying languages - at the moment, she's working on German.