Programme
Date 20.10.2019 – Subject to change.
Übersetzen und
Dolmetschen
Vortragsreihe
für Lehrkräfte
Programme – Friday, 22.11.2019
Kleiner Saal
Cambridge Assessment English, Germany
Europäische Kommission, Generaldirektion Übersetzung, Außenstelle Wien, Germany
Europäische Kommission, Generaldirektion Übersetzung, Außenstelle Berlin, Germany
Botschaft der Republik Indonesien/Abt. Bildung und Kultur, Germany
Fachverband Deutscher Sprachreise-Veranstalter e.V. (FDSV), Germany
DaF - aktuelle Perspektiven, bedarfsgerechte Ansätze, Herausforderungen für die Lehre. Podiumsdiskussion.
Raum 311
Sprache vor Ort erleben
Nelson Alejandro Hernandez Ortega
Babbel Travel, Germany
Studieren im Land Tolstois – russische Universitäten stellen sich vor!
RHWK und Universitäten aus Russland, Germany
Renata von Bülow
Botschaft von Japan, Germany
Hitomi Makino
Japanisch-Deutsches Zentrum Berlin (JDZB), Germany
Kerstin Höfler Sprache & Kommunikation, Germany
Mini­sprachkurse
Instituto Camões, Germany
Chen Chi-Ling
GLS Sprachenzentrum, Germany
Türkisch
Gülsün Taspinar
Royal Turkish Schools, Turkey
Instituto Cervantes Berlin, Germany
Nasibeh Moazani
Hafis-Institut, Germany
Griechisch
Maria Dimitsanti
Filomathia, Greece
Lehrer Lounge
Französisch lernen durch Theater
Damien Poinsard
Thealingua, Germany
3 Geheimnisse eines glücklichen Lehrers
Marija Dobrovolska
Deutsch mit Marija, Germany
Cambridge Assessment English, Germany
Englisch lernen durch Theater
Platypus Theater, Germany
Berliner Volkshochschulen, Germany
Übersetzen und
Dolmetschen
Vortragsreihe
für Lehrkräfte
Culture Corner
German Neijiaquan Association - Verband für Innere Chinesische Kampfkunst in Deutschland e.V., Germany
Chinesische Tuschmalerei / Yin und Kalligraphie / Yang
Lei Zhang
Shendao Zentrum, Germany
EXPO Lounge
Arno Brändle
LLS Liechtenstein Languages Institut, Germany
Polyglot-Talk
Moderation: Gabriel Gelman
Sprachheld
Marija Dobrovolska
Deutsch mit Marija
Lina Vasquez
TheBusyLinguist
Luca Lampariello
LucaLampariello.com
Multilingual teacher, coach and mentor, www.speakfromdayonewithelisa.com, Germany
Klimafreundlich reisen - geht das überhaupt? Diskussionsrunde
Career Lounge
Pädagogische Hochschule Schwäbisch Gmünd, Germany
Christian Scheidgen
Informations- und Beratungsstelle für Auslandsaufenthalte in der beruflichen Bildung, Germany
Nicole Keusch
infothek beruflicher Wiedereinstieg, Germany
T.B.A.
UAB Idiomas Barcelona, Spain
Portuguese Connnection School, Portugal
Übersetzen und
Dolmetschen
Vortragsreihe
für Lehrkräfte
Programme – Saturday, 23.11.2019
Kleiner Saal
Englisch lernen am Strand: Malta erleben!
Martin Frendo
Fremdenverkehrsamt Malta,
Bundesverwaltungsamt - Zentralstelle für das Auslandssculwesen, Germany
New language learning Apps – meet innovative projects!
David Herman
engramo, Czech Republic
Julian Gärtner
FYLP – Find your language partner, Germany
Vocabulary Miner, Czech Republic
Stephan Gottschalk
Bundesverband der Dolmetscher und Übersetzer Berlin-Brandenburg e.V. (BDÜ), Germany
10 Golden Rules to Learn Any Language
Luca Lampariello
Polyglot, Italy
Raum 311
Hochschule für Technik und Wirtschaft Berlin, Germany
Gabriel Gelman
Sprachheld, Germany
LSI.online Lesekurs Chinesisch
Dr. Anke Pieper
Institutsleiterin Sinicum, LSI Bochum, Germany
Modern challenges in learning a language as old as Greek
Filomathia - Greek Language Centre, Greece
Dr. Detlef Groth
Deutsche Ido-Gesellschaft, Germany
Learn how to translate with the world's leading CAT tool - SDL trados
Arno Brändle
LLS Liechtenstein Languages Institut, Germany
Mini­sprachkurse
Esperanto
Esperanto in Deutschland, Germany
Finnisch
Pauli Orava
Finnland-Institut in Deutschland, Germany
Japanisch
Kathatina Dudzus
Japanisches Kulturinstitut, Germany
Botschaft der Rep. Indonesien / Haus der Indonesischen Kulturen, Germany
Nazarbayev University, Kazakhstan
Taufiek Ghalayini
lingua-arabica, Germany
Tschechisch
Tschechisches Zentrum Berlin, Germany
Lehrer Lounge
Professor für die Didaktik des Englischen als Fremdsprache, Universität Leipzig, Germany
Tandem Regensburg, Germany
Übersetzen und
Dolmetschen
Vortragsreihe
für Lehrkräfte
Culture Corner
Hiphop ft. Streetdance für Anfänger bis hin zu Fortgeschrittenen. Perfekt für Jung und Alt.
Dennis Stegink
DanceMasters SanceSchool, Germany
Kulturabteilung Botschaft Iran, Germany
Emiel Visser
Loesje / Loesje Berlin, Germany
Indonesischer Tanz-Workshop
Art Jannik Starkarat
Botschaft der Republik Indonesien, Germany
Instituto Cervantes Berlin, Germany
Traditionelle Russische Musik
EXPO Lounge
Plötzlich wieder Analfabet!.. oder wie man Sprachen mit fremden Alphabeten leichter erlernen kann
Eltern aufgepasst: wie können Jugendliche mit Spaß und Erfolg Sprachen lernen?
SprachCafé Polnisch e.V., Germany
Career Lounge
Elsa Thumerel
Top Language Jobs / CareerBuilder, UK
Business Spotlight, Spotlight Verlag, Germany
active abroad GmbH, Germany
AIESEC in Berlin HU, Germany
Make Spanish a bonus for your profession
Liliana Argentero
Spanish My World, Spain
Das moderne Hostel am Beispiel von A&O
Chris Probst
a&o hostels Marketing GmbH, Germany
Influencers at EXPOLINGUA Berlin
All influencer registrations may be submitted via presse@expolingua.com.
Meet famous language learning influencers and get to know your favorite YouTubers in person at EXPOLINGUA Berlin! We proudly present: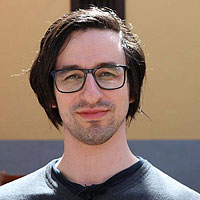 Gabriel Gelman – Sprachheld
Gabriel beherrscht 6 Sprachen (Deutsch, Englisch, Spanisch, Französisch, Russisch, Hebräisch). Er weiß aus 10-jähriger eigener Erfahrung, wie man eine Fremdsprache effektiv und zuverlässig erlernt und kennt alle Methoden und wissenschaftlichen Hintergründe, denn er hat darüber hinaus eine Vielzahl von Interviews mit Experten zum Thema Sprachen und Sprachenlernen geführt.
Sein Blog Sprachheld ist ein praxisorientierter Blog von einem echten Sprachenlern-Experten für Dich. Hier kriegst Du erprobte Praxisstrategien und keine theoretischen Tipps von Lehrern, die im Studium gelernt haben.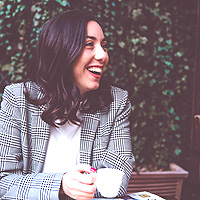 Lucrezia Oddone
Lucrezia Oddone is a Rome born and raised Italian teacher, who discovered her interest for teaching Italian while majoring in translation at university. Her work is mainly online: she runs an Instagram account and a YouTube channel called Learn Italian with Lucrezia. Both are about Italian language, culture, and everything in between. Lucrezia also teaches one to one online lessons to students all over the world.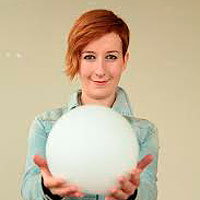 Marija Dobrovolska – Deutsch mit Marija
Marija Dobrovolska wurde 1983 in Riga, Lettland geboren. 2005 zog sie nach Nürnberg und schloss dort ihr Lehramtsstudium dort ab. Statt jedoch an staatlichen Hauptschulen in Bayern zu unterrichten, widmete sie sich nach Experimenten mit Waldorfpädagogik und Montessoripädagogik der Erwachsenenbildung und unterrichtete 11 Jahre bei einem privaten Bildungsträger erst Englisch, dann Deutsch als Fremdsprache.
2016 rief sie ihren Youtube-Kanal "Deutsch mit Marija" ins Leben und ist seit November 2016 hauptberufliche Youtuberin und Online-Coach (inzwischen hat sie auch einen zweiten Youtube-Kanal für russischsprachige Deutschlerner, Немецкий с Марией).
Marija kreiert für ihre Kunden innovative Onlinekurse mit verschiedenen Schwerpunkten (Aufsätze schreiben C1, Grammatik B2, Zitate, Redewendungen & Sprichwörter uvm.) und hat Spaß daran, neue Unterrichtsideen umzusetzen. Gleichzeitig schreibt sie an mehreren Büchern, lernt Slowenisch und Spanisch und beschäftigt sich mit ihrer 8jährigen Tochter Katarina und ihrem Hund Sherlock, der inzwischen auch ein Youtube-Star ist.
Marija spricht Russisch, Lettisch, Deutsch, Englisch und Rumänisch und hat viel Freude daran, Anderen Deutsch beizubringen.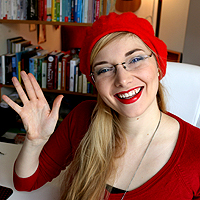 Katja – Deutsch für euch
https://www.youtube.com/DeutschFuerEuch
Katja stammt zwar aus Deutschland, verbrachte einen erheblichen Teil ihrer Jugend aber an einem ganz anderen Ort: dem Internet. Da man im Internet – besonders damals – vor allem auf Englisch gut zurechtkam, lernte sie (wie viele andere Nerds) anhand von YouTube und anderen Medien sozusagen "nebenbei" Englisch. Das war auch einer der Motivatoren dafür, 2013 die Videoreihe "Deutsch für Euch" auf dem gleichnamigen YouTube-Kanal zu entwickeln. In ihrem Onlinekurs nimmt Katja komplexe Phänomene der deutschen Sprache auseinander und versucht Regelmäßigkeiten in den oft frustrierenden Eigenheiten des Deutschen aufzudecken. Im "echten Leben" studiert Katja Lehramt aus Überzeugung und freut sich über jeden, der sich von der Freude an Sprache anstecken lässt.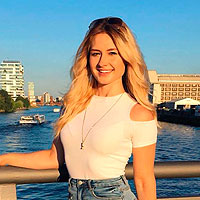 Lina Vasquez – TheBusyLinguist
Lina Vasquez is a Latvian-Australian Polyglot, Youtuber and Professional language teacher living in Berlin. Having been immersed in multiple languages from an early age, she continued to study them throughout University and now speaks a total of seven. As the creator of the brand "The Busy Linguist", her goal is to inspire people and show them the true value and power learning a foreign language entails.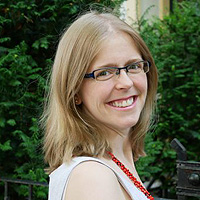 Juliane Klingenberg
Juliane is a polyglot and travel enthusiast from Berlin. She has always loved to learn new languages and discovered her passion for teaching German as a foreign language while studying and living in France, England, Canada and Brazil.
The success of her 1-1 lessons eventually led her to develop her own online video course, with now almost 700 videos covering the levels A1-B1. It is based on the teaching materials which she created and continuously refined over the past ten years. On www.germantogo.com, she accompanies her students every step of the way, step by step to fluency. She loves what she does, gives them structure and the feeling of having a private tutor in an online course.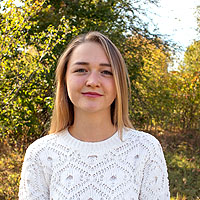 Sofiia Symonova - deutsch.mit
https://www.instagram.com/deutsch.mit/
Sofiia spricht 4 Sprachen (Ukrainisch, Russisch, Deutsch und Englisch) und lernt zur Zeit Französisch. Sie ist erst 19 Jahre alt und unterrichtet bereits online Deutsch. In ihrem Blog teilt sie ihre Erfahrungen, wie man eine Sprache erlernen kann, ohne in einem Land zu leben, in dem sie gesprochen wird. Sofiia zeigt, dass das Sprachenlernen auch vielfältig und unterhaltsam sein kann.
Einen besonderen Wert legt sie auf Tandempartnerschaften: wo findet man Muttersprachler? Wie gewinnt man neue Freunde und erhält seine Bekanntschaften aufrecht?
"Sprachen lassen sich am besten durch Anwenden lernen. Bücher zu und raus in die Welt!" lautet ihr Motto.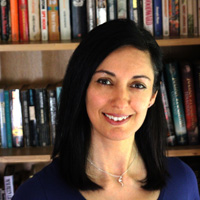 Minoo – Anglo-Link
Minoo is a UK-based English language teacher and YouTuber. She is fluent in English, French, and Persian (her native language). She has also studied Spanish (B1) and German (A2). Minoo obtained her CELTA diploma qualifying her as an EFL teacher and teacher trainer in the UK in 1985. She then spent 15 years working in a residential school in Belgium as an English teacher, teacher trainer, and course director before moving back to the UK to set up her own English immersion programme.
In 2008, she created her online English course called Anglo-Link and launched Anglo-Link's YouTube channel in 2011. At present, the channel offers about 100 lessons on different aspects of the English language and enjoys close to 1.2 million subscribers. Minoo is currently working on a new series of lessons to enrich its content.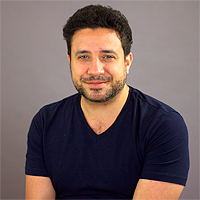 Luca Lampariello
Luca Lampariello is from Rome, Italy. He holds a degree in Electronic Engineering and studied Interpretation in Paris. His true passion is languages: he is currently fluent in 10 and speaks 14. He has been working as a language coach for the last 10 years and has been coaching hundreds of students from a wide range of countries. Since 2008, his videos on YouTube and blog, LucaLampariello.com, have attracted thousands of followers and language learners all around the world. He is honored and thrilled to be this year's language ambassador at EXPOLINGUA!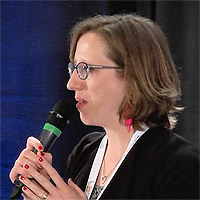 Jeanne – Apprendre Natur'allemand
www.apprendrenaturallemand.com/
Jeanne ist Französin und hat besondere Liebe zu der deutschen Sprache und Kultur, nachdem sie 8 Jahre in Deutschland gelebt hat. Jetzt wohnt sie wieder in Frankreich und 2018 startete sie ihren YouTube-Kanal, um Franzosen dabei zu helfen, Deutsch mit Freude zu lernen. "Apprendre Natur'allemand", Deutsch auf natürliche Weise lernen: so macht am meisten Spaß! Ob beim Kochen, beim Basteln, oder ganz einfach im Alltag, Jeanne erklärt den Französischsprachigen die deutsche Sprache auf einer ganz spontanen Art.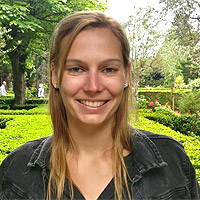 Stefanie – Lerne Deutsch
www.instagram.com/lernedeutsch/
As a native German, Stefanie always wanted to learn another language. Growing up in Berlin made it possible for her to meet people with other backgrounds, cultures and languages and that helped her discover her passion for teaching a language. In 2016 she started an Instagram account called LerneDeutsch where you can get your daily dose of German words, sentences and idioms. After receiving great feedback from the LerneDeutsch followers, she put herself a target -help people from all over the world to learn German in a fun and easy way by integrating German into their daily routine using Instagram, recording each word/sentence to make it easier to practice their pronunciation, quizzes and compact YouTube-videos that will help the language enthusiasts to achieve their goal of becoming fluent.